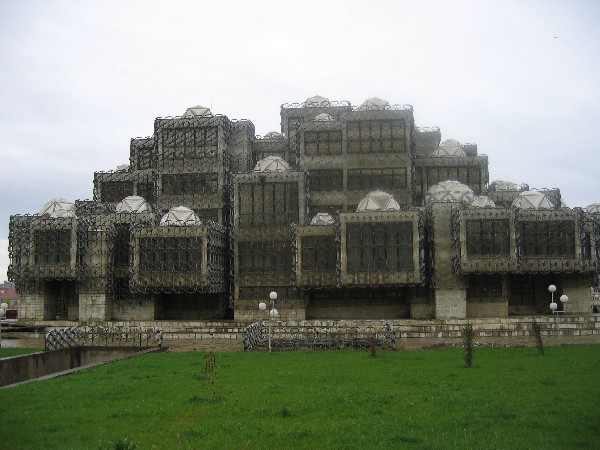 National Library, Prishtina


Report from Florian Agalli, artist
Islamic extremists praying at the national library... they are still doing it... I started to record their prayers... I have some incredible footage... you must see their faces and actions when they realised someone wasn't just watching them, but recording on tape, what they are doing...ESCALATION OF THREATS FOLLOWED, but i have learnt to deal with that type of things in communist albania...YOU MUST KNOW THAT THESE PEOPLE HAVE NOTHING TO DO WITH ISLAM.... they are all hired mercenaries, young men from very poor and totally uneducated village families (both in terms of social and religious culture) getting a scholarship from islamic organizations [they are run by some ex KLA (Kosovo liberation army) fighters and other types of political extremists, who have adopted this perverted practice of islam as a way to secure support for the recognition of a pure ethnic and islamic kosovar albanian society]
I decided not to keep provoking them ... that would just served their purposes, since that's what they want, confrontation and public disorder... so... I am working on another direction now... I am building what I call counterweights...
Practically, while they go on with their prayer I will invite people to tell me their stories of use and abuse of the library... you have to know that starting in 1990 all albanian schools were closed, all albanian personnel was dismissed, all albanian structures of education were deleted... so...I will interview from the outside old workers of the library who will tell me about how they used to just look at the library from the outside, and in the background you (the viewer) will see these islamic extremists praying on public educational ground... the last stop for the background is the golden croos on the concrete dome of the church... these guys do their prayer on the corner of the library closest to the church, so there is no fucking way to miss it... such a mess...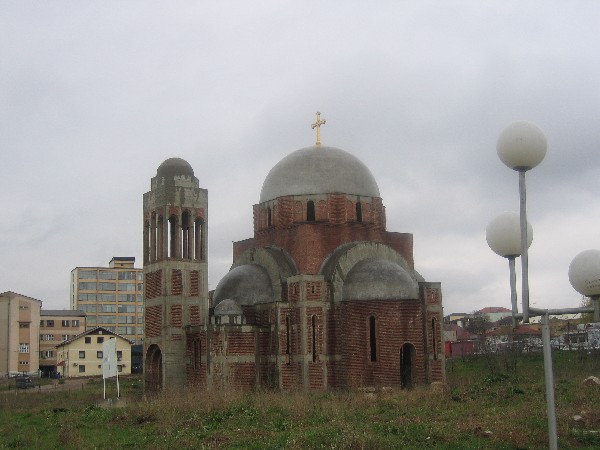 serbian orthodox church, builded during the occupation on the ground of the university, next to the national library.