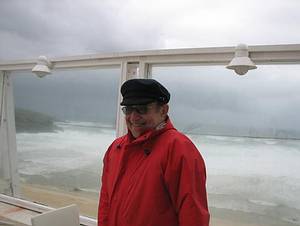 David Kettler: Nature Studies



20. Juni 2007 14-16: Karl Mannheim in Frankfurt
In dieser Sendung wird anhand von Arbeiten von und über Karl Mannheim die besondere Situation der Soziologie in Frankfurt in den 1930 Jahren vorgestellt.
David Kettler hat zahlreiche Arbeiten zu Mannheim veroeffentlicht, u.a. als Mitherausgeber der Habilitation von Karl Mannheim über "Konservatismus", die Studie über "Strukturen des Denkens" und "Politisches Wissen. Studien zu Karl Mannheim". Aufsätze von ihm wie zum Beispiel "Can we master the global tensions? Mannheim's 1930 Lectures" oder "Negotiations: Learning from Three Schools in Frankfurt" sind auf folgender Webseite verfügbar: works by David Kettler
Hannah Arendt on Karl Mannheim
Bard Library Arendt Collection. Commentary on Arendt's marginalia on and review of Mannheim's Ideologie und Utopie Website: Hannah Arendt on Mannheim
David Kettler short biography:
A.B., M.A., Ph.D., Columbia University. Professor emeritus, political studies, Trent University, Canada. Author or coauthor: Adam Ferguson: His Social and Political Thought (expanded edition, 2005); Marxismus und Kultur; Karl Mannheim; Karl Mannheim and the Crisis of Liberalism: "The Secret of These New Times"; Sociology as Political Education; Domestic Regimes, the Rule of Law, and Democratic Social Change: Exile, Science and Bildung. Editor/translator of four volumes. Numerous articles in professional journals, edited volumes, handbooks, encyclopedias. (1991– ) Research Professor in Social Studies.
play: einleitung Soziologie in Frankfurt
play: Gespräch mit Amalia Barboza
play: Gespräch mit David Kettler